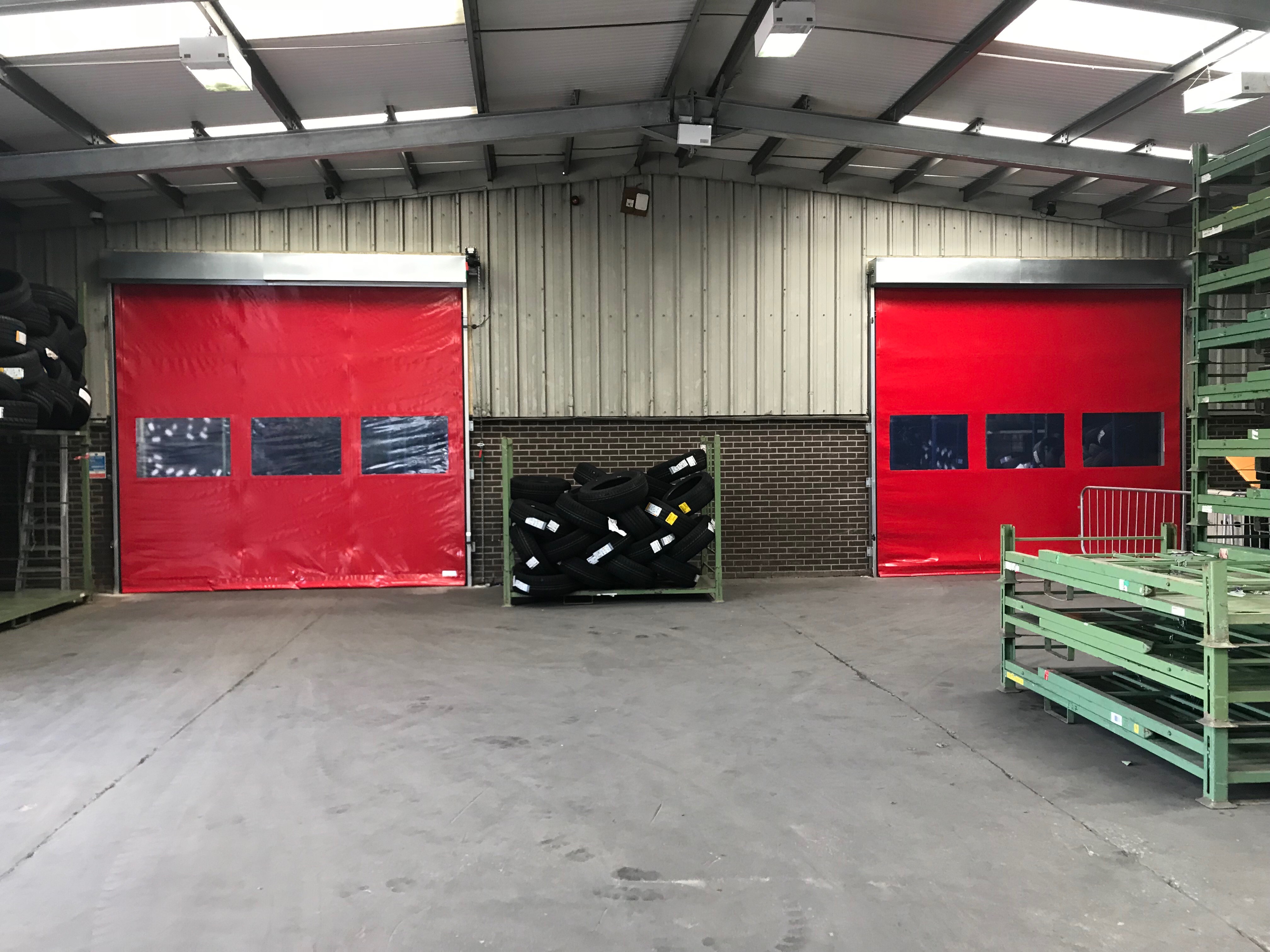 The Job
We spent and active few days carrying out a supply and installation of two Seceurodoor rapid rolls for Oak Tyres Ltd, based in St Helens
Oak Tyres Ltd are one of the biggest tyre suppliers in the North of England and have been serving the industry since 1980. With four depots strategically located they are well placed to assist their customers with the right tyres at the right time.
The Installation
During our survey, we discovered that the customer had two main areas that needed to be considered for installation.
They have two large warehouse doors with security shutters fitted that lead on to a covered loading area and because there is a constant requirement for access for loading and unloading of tyres, the security shutters need to remain open 24 hours a day whilst the business is operating. The result of this is the warehouse is vulnerable to dust entering the building and affecting the stock that is stored there, not to mention the severe heat loss the warehouse was currently experiencing due to the security shutters being open all the time.
We needed to provide a product that would open and close quickly, as to not slow down the forklifts that enter and exit the warehouse from the loading bay, prevent heat loss whilst closed and also detect traffic moving through the openings without the need to manually operate the product.
The Product
Our advice for this application was to choose the SeceuroDoor Rapid Roll manufactured by SWS UK.
This fabric industrial door is high-speed and robust with an excellent wind resistance and also has a reliable self-repair facility in case of a collision with door.
With a durable 90gsm the curtain can help prevent any moisture, drafts and dust from entering the unit when closed.
Available with Condor Motion Sensors which enables the door to detect any motion in front of the unit and also allows for a count down before automatically closing, we thought this had to be the perfect product for the job.
Result
The SeceuroDoor Rapid Rolls fitted well in our customer's warehouse, we used the Condor motion sensor to enable automatic opening and closing on the arrival of any vehicles and we allowed visibility for the customer by supplying the Rapid Roll curtain with windows.
Our customer was extremely pleased with their new rapid roll doors, and will improve the quality of the products they supply going forward.
Find out more about our SeceuroDoor Rapid Roll by calling us on 01524 771578 or email us at [email protected]  You can follow all our projects on our Facebook page and Twitter feed